Stainless-Steel: 304 vs. 430 - What's the Difference?
---
There are many different grades of stainless-steel used in various industries. In the world of truck parts, the two most common grades of stainless-steel used are 430 and 304. While both can produce excellent quality products that resist corrosion and rust, there are some key differences between the two. Let's take a look at the comparison:
430 Stainless-Steel (Mid-Grade):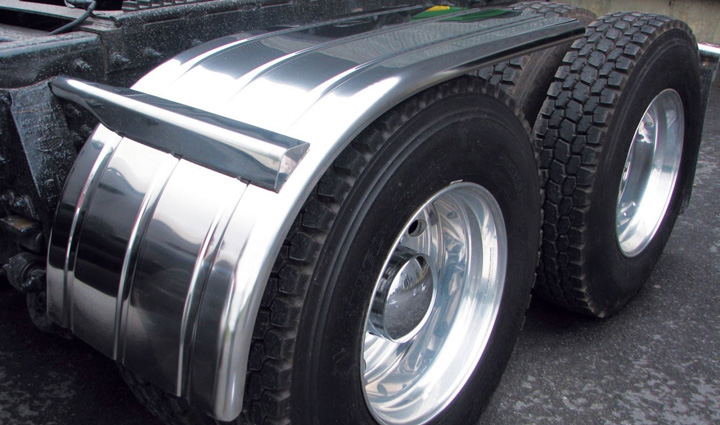 Most Common Stainless-Steel Grade Used for Truck Parts
Can Be Polished to a Near Mirror Finish
A Magnetic Steel
Mid-Level of Resistance to Corrosion
Eventual Rust Is Likely
Can Be Polished & Restored to Original Finish if Corrosion is Stopped Early On
Used in the majority of truck parts produced today, 430-grade Stainless-Steel offers superior corrosion resistance when compared to chrome-plated steel. However, due to there being less chromium, and slightly more carbon in the metal, 430 Stainless-Steel is less resistant to corrosion than 304 Stainless-Steel. Eventually, it will begin to rust on the surface. If quick action is not taken, it will eat through the metal. Plan to eventually pull out the polishing equipment to restore its shiny finish.
---
304 Stainless-Steel (Premium Grade):

Best Quality Stainless-Steel Grade Used for Truck Parts
Can Be Polished to a Perfect Mirror Finish
Non-magnetic Steel
High Level of Resistance to Corrosion
Theoretically Should Never "Rust Through" - Surface Rust Will Develop
Can Be Polished Back to Original Finish
304 Stainless-Steel is among the highest grade used to produce truck parts. Comprised of 18% chromium, 304-grade stainless-steel should never rust through to the point that it will jeopardize the integrity of the metal; the chromium properties in the metal will only allow corrosion to go so far before stopping the rusting process. However, all stainless-steel grades, including 304, can develop surface rust from factors like climate and poor care. Sometimes surface rust will require you to get your hands dirty and pull out that buffing wheel and polish. This level of quality will initially cost you more than its 430-grade counterpart, but its superior durability will pay for itself in the long run. **
No matter what grade of stainless-steel your parts are made of, it will be a great quality item that can last a long time with the proper care and maintenance. Regular cleaning and polishing will increase the longevity of your stainless-steel products, and keep your Rig looking its best. We offer a full line of polishing equipment that can help you take care of all your chrome and stainless-steel needs. You can shop those items here.