Metal Grades: 304 vs. 430 Stainless Steel
---
There are an incredible number of different grades of stainless steel used in various industries. In the world of automotive and truck parts, the two most common grades are 430 and 304. In brief, the chromium used in these metals reacts with the oxygen in the air to produce a thin coating of an oxide compound, which protects the metal beneath from the environment. While both alloys use this general concept to produce corrosion and rust-resistant finishes, there are still some key differences in quality between them. Let's take a closer look:
430 Stainless-Steel (Mid-Grade)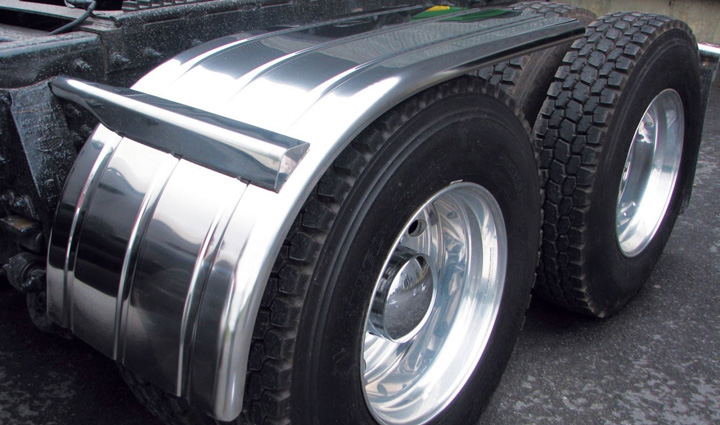 Capable of Holding a Near-Mirror Finish
Magnetically Reactive Alloy
Mid-Level Resistance to Rust & Corrosion
Can Be Polished to Restore the Original Finish (if Corrosion is Caught Early On)
The more common grade, 430 steel is a ferritic chromium alloy that offers superior corrosion resistance over standard chrome-plated steel. However, the relatively low concentration of chromium and larger percentage of carbon means this resistance is less than what you'll find in higher-grade alternatives. Careless exposure to the elements will eventually cause surface rust capable of eating through the metal without preventative maintenance. Since polishing equipment and regular cleaning can keep your finish rust-free for years, 430 stainless steel remains an attractive option for producing durable and budget-friendly chrome accessories.
---
304 Stainless-Steel (Premium Grade)

Capable of Holding a Perfect Mirror Finish
Not a Magnetically Reactive Alloy
Superior Corrosion Resistance
Will Not Rust Through - Surface Rust Will Develop
Can be Polished to Restore the Original Finish
Among the highest grades used in automotive applications, 304 stainless steel is a non-ferromagnetic alloy composed of a much higher percentage of nickel and chromium, (roughly 18%,) rendering it essentially immune to rusting through enough that the integrity of the metal is at risk. That said, surface rust can still develop in tough climates or with physical damage, but a simple buff and polish should be enough to restore the mirror finish on even the most poorly maintained fixtures. The initial investment for 304 steel is, of course, higher than lower quality grades, but when properly maintained, and factoring the costs involved with maintenance or replacement, this will level out significantly— even paying for itself in some cases.*
No matter what grade of stainless steel you choose for your parts, when you shop with Raney's you're sure to get exactly what you're looking for. While some businesses underdeliver on or incorrectly represent their materials, you can be certain we offer only high-quality products that we're proud to stand by every time. We also offer a full line of maintenance equipment to help take care of your metal and keep it looking its best. You can check out that selection of cleaning and polishing products at the link below.
*

Raney's in no way guarantees that its stainless steel products cannot rust. Any metal, when exposed to harsh elements or chemicals, is capable of corroding beyond restoration.
If you have any questions, please don't hesitate to call our toll-free number: 1-888-888-7990