Finding the Right Axle Covers or Hub Caps
---
Hub Caps & Axle Covers at a Glance
Hub Caps tend to cover the central fixtures and work with oiled wheel hubs.
Axle Covers tend to cover the entire visible hub and work with either greased or oiled wheel hubs.
---
Axle Cover Fitment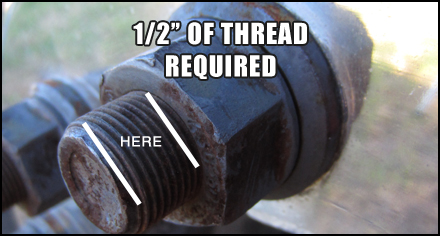 Axle covers from Raney's are guaranteed to work with most standard hub-piloted or stud-piloted wheels. For heavy-duty applications, these tend to fall between 22.5" and 24.5" inches in diameter. Our covers are sold either individually or as part of a complete kit, so the first thing you'll want to do is verify the listing details to see how many wheels one kit or individual unit will cover, whether these covers are intended for your front or rear axle, and whether or not compatible lug nut covers are included.
Then, you'll want to check the size of the exposed threading on your hubs. (This is the length of thread between the end of your fully-tightened lug nut and the tip of the screw.) Taking a few seconds to measure this will help you get a solid idea of whether your axle cover and lug nut covers will fit properly before purchase. If your wheels show less than 1/2" of exposed threading you may require specialized axle covers and push-on style lug nut covers for them to stay attached.
Beyond that, installation is deceptively simple! These axle covers can be snapped into place by hand, then secured by tightening your lug nuts with basic tools. You'll need a wrench and maybe a gentle nudge from a prybar for installation or replacement. If you aren't sure about sizing or installation for your lug nuts, then check out another Raney's guide: Click Here!
Front Hub Cap Fitment
Step 1: Count the Notches on Your Wheel

As a general rule, the number of notches on your front-axle hub caps should match the number of notches on your wheels. 4-notch hub caps match 4-notch applications— simple enough, right? The only exception applies when you're considering hub caps which are designated as "universal." These will fit with any number of notches EXCEPT evenly-spaced 6-notch hubs. These will always require even 6-notch caps for correct fitment. You can filter our inventory by your desired number of notches to make finding a compatible hub cap as easy as possible.
Step 2: Measure Your Wheel's Lip Height
The "lip height" is the distance between the top of the interior of your wheel's barrel and the end of the raised section between your lugs. This is simply the clearance your wheel affords a cover or cap. It tends to be, (but is not always,) different depending on the kind of material it was made from. In either case, as long as your hub cap's lip height matches the wheel's lip height you're good to go!
Most Aluminum wheels have a 1" lip
Most Steel wheels have a 7/16" lip

Rear Hub Cap Fitment
Measure the Diameter of Your Axle Studs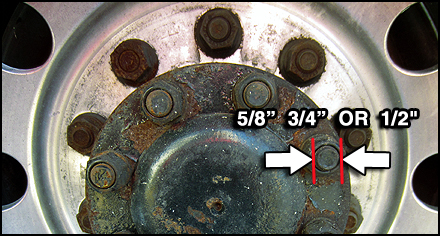 Here's where things can get a little more complicated. Rear-axle hub caps need a certain amount of headroom after the threading to function, so the size of your studs is a deciding factor in the kinds of covers you can fit.
If you have (8) individual studs that are 5/8" in diameter, you'll need 8" caps
If you have (8) individual studs that are 3/4" in diameter, you'll need 8-1/4" caps
If you have (12) individual studs that are 1/2" in diameter, you'll need 7-1/2" caps
Most Peterbilt, Kenworth & Freightliner trucks use 8" caps
Most International, Volvo and some Mack trucks use 8-1/4" caps
Some Mack trucks with a 44,000lb rear end use 8-1/2" caps
If you have longer studs than standard, you may need caps with 1-1/2" side walls!

Now you're ready to find the perfect hub caps:
Check out our Wheel Accessories!