Hood ornaments were popular in the 1920s, 1930s, 1940s, and 1950s with many auto manufacturers fitting them to their vehicles. Now hood ornaments are widely used on cars, pickups, and semi-trucks as a way to add a personal touch!
Check out Raney's full selection of semi-truck hood ornaments, available Here!
---
Click on a Hood Ornament Below to Learn More: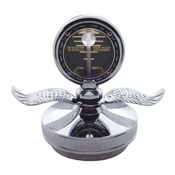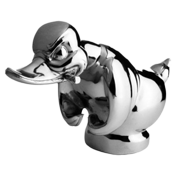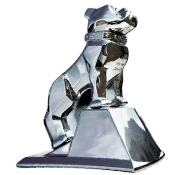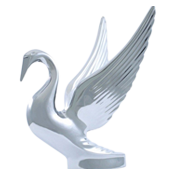 ---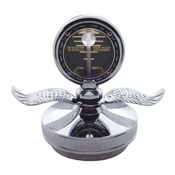 The true pioneer! Before hood ornaments were, well, ornamental, the Motometer was essentially an engine thermometer that screwed into the radiator cap and kept the driver aware of operating temperatures. As more and more people invested in these handy devices, Motometers began to get more stylish. Automakers added knobs, wings, and other decorations to set their products apart from the rest, which started a trend that continues to this very day!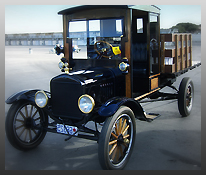 The era of the Motometer, however, only lasted into the 1920's; by the later part of the decade temperature gauges had moved to the inside of most vehicles and radiators were shrouded behind the ancestors of modern grilles, so exterior gauges became redundant. Despite this, the radiator cap was kept outside of the hood, turning the Motometer from a necessity into a design element and status symbol.
Shop for the Motometer at Raney's!
---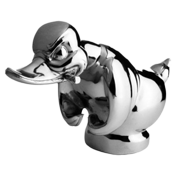 The cigar-toting, flexing duck from the movie Convoy, later featured in Quentin Tarantino's Death Proof; this classic hood ornament is definitely hard for movie buffs to forget! Released in 1978, Convoy was produced by Robert Sherman and shot by the acclaimed director, Sam Peckinpah. Featuring Martin "Rubber Duck" Penwald and his reluctant crusade against a corrupt Arizona sheriff, it quickly became a cult movie alongside several other trucker-themed films from the era like Smokey and the Bandit. To this day, Convoy remains a favorite among professional truckers and big rig enthusiasts for the performance of Kris Kristofferson and the dedicated attention paid to CB slang and trucking tropes.
Since those films, the Angry Duck featured on Martin Penwald's Mack truck and Mike McKay's '73 Mustang has been a symbol of adventure and the renegade lifestyle for drivers from all walks of life.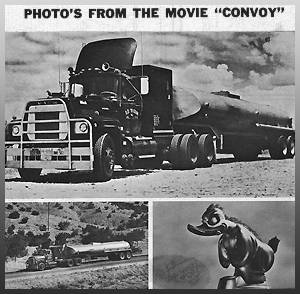 Shop for the Angry Duck at Raney's!
---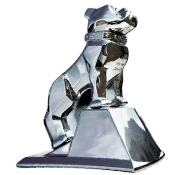 The iconic Bulldog hood ornament first became associated with Mack during World War I. British soldiers nicknamed the Mack AC models used in the Allied war effort "Bulldog Macks" because of their power and tenacity. Even after the conflict their Bulldog moniker stuck, and more than a decade later a chief engineer at Mack named Alfred Fellows Masury designed and hand-carved the very first bulldog out of soap while recovering from surgery. Patented by Masury in October of 1932, he sadly would not get to see the Bulldog on production models, as he perished with the crash of the U.S. Navy airship Akron in 1933, the same year they were set to debut. Mack is still proud to feature his design and this loyal hound with their company trademark and several modern reproductions of the ornament.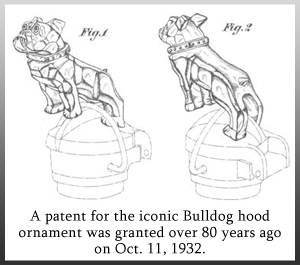 "For 80 years, the Bulldog hood ornament has been a symbol of the durability and reliability customers expect from Mack. We're proud of our heritage and that the Bulldog has become so widely recognized— and we tip our hats to Alfred Masury for his contribution to our legacy."
Kevin Flaherty, President of North American Sales at Mack
Shop for the Mack Bulldog at Raney's!
---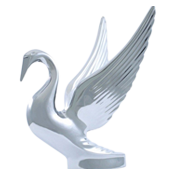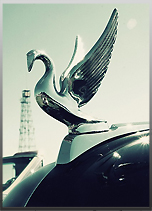 First introduced in the early 1930s, the swan made its debut on Packard luxury automobiles and would remain in use alongside their Goddess of Speed until the last models produced in the late 1950s, after the company's disastrous merger with Studebaker. Considered high class long before they were antiques, these elegant swans and comorants still stand out beautifully on more modern vehicles and a rich collector's market exists for original pieces.
Shop for the Packard Swan at Raney's!
---