The Best Shock Absorber Brands at Raney's Truck Parts
---
It's pretty hard to find a replacement part more important than the components for your suspension, at least outside of the engine block! This Raney's guide is intended as an introduction to some of the best shock absorbers for a smooth ride in your semi-truck or any commercial vehicle.
We carry three main brands of front/rear truck shocks and dedicated cab shocks in Gabriel and Bulldog. Their product lines definitely have varying features, but between them we guarantee you'll find cost-effective options made with high-quality materials no matter what kind of budget you're working with. When it comes to aftermarket parts, Raney's is all about enabling drivers to make the best possible decision for their rig, their business, and their bottom line!
Heavy Duty Truck Shocks at Raney's
The cost to replace shocks and struts year after year can be a significant factor when it comes to the overhead for operating your truck, so we've put together three separate tiers of reliable shocks and reached out to our manufacturing partners to make what you're getting for your hard-earned money perfectly clear. We're convinced that these brands represent some of the best shocks and struts for semi-trucks available on the market today, and you can be sure that every single one of them comes backed by industry-leading warranties and dedicated support from our team. We aim to make Raney's the best place to buy shocks and struts for any big rig!
Gabriel HD Shocks offer both the Fleetline and GasSLX series to better match driver needs
Bulldog HD Shocks mean exceptional dampening power and premium quality for the price
When to Replace Your Shocks and Struts
OEM on-road shock absorbers for heavy duty vehicles typically have a life expectancy somewhere between 80,000 and 150,000 miles. This might seem like a pretty wide range, but job-specific applications such as hauling livestock, or fighting constant heavy inclines and rough pavement, are going to put much more strain on your suspension than moving freight up and down I-57. If you're going offroad regularly, that range is more realistically something like 50~60,000 miles. If, (goodness forbid,) your truck isn't moving, you're generally looking at about ten years (10 yrs.) of usability instead. No matter what or where you're hauling, though, popular wisdom suggests getting any shock absorber checked every 15,000 miles or so to ensure it's working at its best.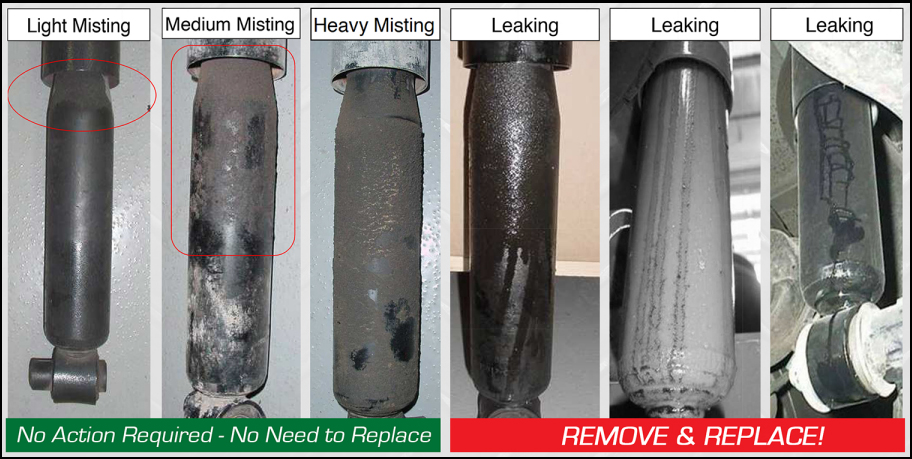 The most common symptom of a failing shock is excess vibration through your steering wheel, or uncomfortable bouncing and swaying during your ride. You can spot the signs of a failing shock a little earlier, though, if you watch out for uneven tread wear on your tires and occasionally check your shock housings for visible dents or damage. A thick layer of gunk building up under the top half of your shock can also be a tell-tale sign of leaking oil after a seal failure. Some problems, like aeration of your oil and resulting shock fade, are only going to be verifiable by removing the part and testing the dampening resistance of the shock itself, or by inference from the way your truck is handling. In any case, if you're swerving and having any trouble braking, or you notice the hood dipping way down when you do, it's definitely time to take a closer look at the problem at least!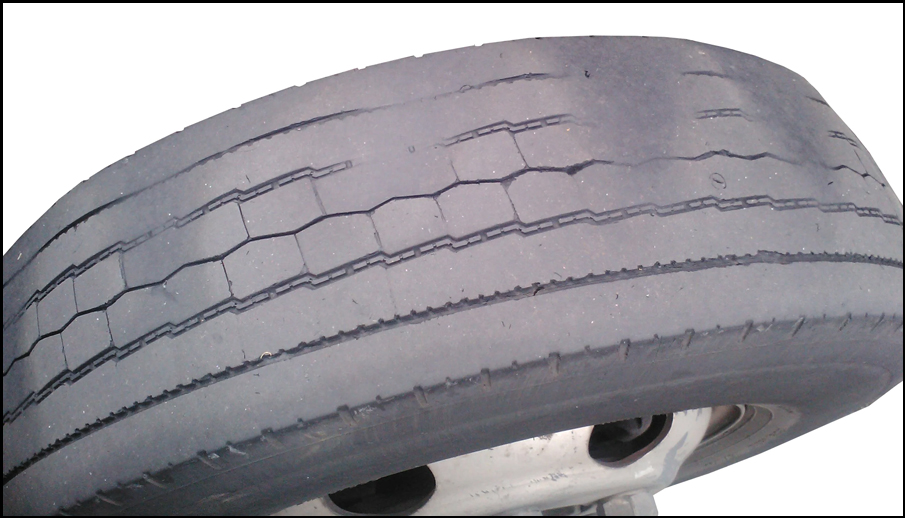 Example of Tire Cupping, a condition that can let a driver know that they should consider changing their shocks.
The Most Comfortable Shock Absorbers for Semi-Trucks
Ride quality is easily the next biggest concern, and for good reason! Both the dampening force and the method these shocks use to achieve it are important for determining what the best option is for your truck. All of the shocks at Raney's Truck Parts are either single-tube emulsion, twin-tube nitrogen charged, or use an internal floating piston system (IFP). In brief, an emulsion shock mixes oil and gas in the main body, while a nitrogen-charged shock uses an inner and outer tube to separate them more thoroughly. Likewise, IFPs have a separate chamber or cell for the gas that's sealed off completely.
IFP and nitrogen systems are designed to better prevent aeration of the oil during normal operation.
Gabriel offers an emulsion option in the Fleetline series, and an adjustable IFP in the GasSLX
Bulldog HD uses nitrogen-charged shocks for more piston movement in a smaller package
Top Shock Brands at Raney's
---
Gabriel HD Shocks

Gabriel's line of heavy-duty shocks offers professional drivers a choice between two different styles of dampening. While both provide incredible value for a reasonable price, their GasSLX IFP shocks tend to be a little more expensive considering their more responsive adjustable design. For this reason, the Fleetline series is your go-to if you're on a tight budget or need an immediate solution to keep your truck running. Don't let the price tag fool you though— when compared to similar competitors by independent lab testing in 2021, Gabriel shocks in both styles offered superior fade and corrosion resistance across the board. Their hydraulic stop is also more than three times as effective, and in tensile testing they proved to be tougher than their competitors under extreme conditions (100,000 N).
Proprietary anti-corrosion coating for their end mounts inhibits rust and helps stop bolt seizure
Best-in-class hydraulic stop at a price point where some competitors don't even include one
A piston seal design and materials that actively compensate for higher temperatures
Uses a solid-steel eye ring with a 360° weld rather than a typical, less-durable split ring design
Chromed piston rods rather than raw steel or coated rods as in most competitor shocks
GasSLX shocks are adjustable, with "Regular," "Firm," and "Extra Firm" settings
Gabriel's Fleetline shocks are warranted for one year (1 yr.) or 100,000 miles
Gabriel's GasSLX shocks are warranted for two years (2 yrs.) or 200,000 miles
Shop Gabriel HD Shocks
---
Bulldog HD Shocks
Bulldog takes their nitrogen-charged shock a little further with dozens of innovations over their own tier of competitors. Using a twin-tube design that better separates oil from the gas, they're able to deliver a longer stroke in a smaller package. Bulldog HD is our midline option, and like Gabriel, you can be certain you're getting the best shocks possible compared to similarly budgeted options out there. Bulldog boasts their own in-house bushing manufacturer and proprietary valve designs, with a multi-lip Viton seal to back them up. They also feature a PTFE piston seal rather than the more-common O-ring, which means you're far less likely to see internal leaks. Bulldog aims to provide an incredibly reliable product by addressing all of the typical points of failure in a heavy-duty shock with modern engineering solutions, and we believe they've succeeded using nothing less than incredible attention to detail.
Resists housing damage with a strong inner tube wall that's 40% thicker than the competition
Robotic welding for the eye ring, giving it one of the highest breakpoint ratings in the industry
Bulldog's specially designed rod-stop prevents punctures and internal valve damage
Chromed piston rods with treated with a micro-polish finish to reduce friction
Shock housings are all coated with an industry-leading 42-micron corrosion-resistant finish
Bulldog HD shocks are warranted for two years (2 yrs.) or 200,000 miles
Shop Bulldog HD Shocks
---
Check out Raney's Inventory of Semi-Truck Shocks
---
That might be a brief introduction, but if you're looking for more information about any of the shock absorbers we carry here at Raney's, feel free to give us a call at our toll-free number: 1-888-888-7990! Our team of product experts would love to answer any questions you have. We'll walk you through every step of finding the perfect shock for your rig, and we're proud to stand by every Gabriel and Bulldog product for the entirety of their lifetime. If you'd rather browse our selection online, take a look at the link below or click on the brands above!
Shop all Semi Truck Shock Absorbers
---
*Please note that this guide is not intended to, and should not, take the place of advice from your fleet mechanic or a trained professional. Every driver's route is different, and your shock absorbers may need service/replacement sooner or later than average as a result. Raney's strongly suggests checking your shocks regularly to ensure a safe and comfortable ride!