Finding the Right Lug Nut Covers for Your Semi-Truck
---
Types of Lug Nut Covers
On most semi-truck wheels, lug nut covers come in two types. They're named, appropriately, after the way they fit to your hub: either "threaded" covers which work like any standard nut, or "push-on" covers which snap into place. These come in 1-1/2" or, more commonly, in 33mm lengths. As a general rule push-on covers are 33mm, but Raney's carries threaded options for both sizes in dozens of styles, so no matter which type you're looking for it's incredibly easy to find an appropriate replacement. This guide is intended to be a brief introduction to fitment so you can make an informed decision for yourself or your favorite trucker's rig before purchasing.
Determine Your Lug Nut Sizing
If you happen to have a set of socket wrenches on hand the easiest way to determine sizing is to dryfit them over your lug nuts and test if there's any slack. Otherwise, 33 millimeters translates to roughly 1.3 inches, so it can be a little tougher to make the call by sight or instinct alone. Of course, it's certainly possible just to take a ruler or measure them against something you know. (If you're particularly desperate, the distance between the knuckle and tip of the average thumb is roughly 1" in length, but we wouldn't recommend going with that rule alone!)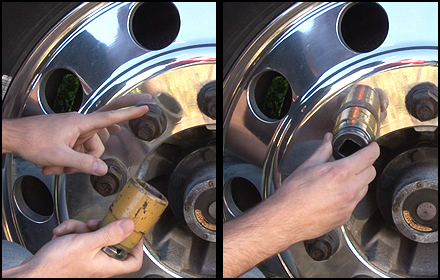 Hub-Piloted & Stud-Piloted Wheels
Thankfully, there's also a couple of standards to follow once you've determined your wheel's lug nut size.
Hub-piloted wheels usually fit 33mm lug nuts.
Stud-piloted wheels usually fit 1-1/2" lug nuts.
A stud-piloted wheel will never have a lug nut with a flange at the base.
Threaded or Push-On Lug Nut Covers?
It's even easier to figure out whether you'll need to fit push-on or thread-on lug nut covers. Just measure the length of threading between the end of your fully-tightened lug nut and the tip of the studs. Is it less than 1/2"? Then you'll need to use push-on covers. 1/2" or more of exposed thread is required for threaded covers.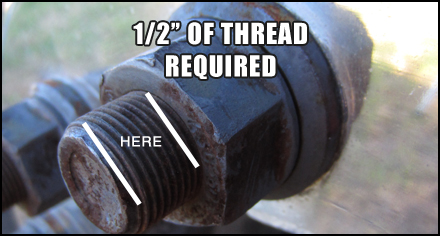 Browse Raney's Selection of Lug Nut Covers!
Now that you know what size and type you'll need, you're ready to start customizing your truck's wheels!