Choose the best exhaust stack for your Big Rig! Adding a set of new top stacks gives your ride a new shine with a mean look. Whether you're looking for a classic look or something unique, we have you covered. With all of the different styles of top pipes that we carry, you can easily choose something that matches you and your truck.
Shop all of our Exhaust Stacks!
---
Click on a Top Stack to learn more about it:










---
The brands we all love.
Dynaflex deluxe Line of stacks that are unmatched in quality. They have been manufacturing all of their products in the U.S. since the early 70's and consistently prove to be innovators in the trucking industry.
They have the most unique line up of exhaust stacks and have a selection of 9 different styles each featuring DynaFlex's patented taper lock design. Dynaflex stacks will turn heads every where you go whether you're at a truck show or a truck stop. They are built to precision and are the absolute best that money can buy. As expected, they come with an extended 1 year limited warranty against defects in material or workmanship.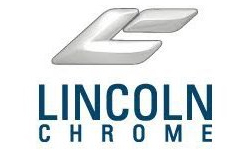 Premium Line stacks that are some of the best quality you can buy. Lincoln has been in the business of chrome for over 60 years and everything from start to finish is done under one roof in Nebraska.
You will pay a higher premium than other brands for Lincoln Chrome Stacks but you won't be disappointed with the end result. They have 7 different style stacks are built to last and will be turning heads everywhere you go. They come with an extended 1 year limited warranty against defects in material or workmanship.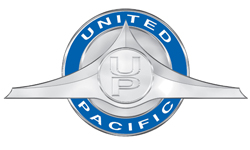 Economy Line stacks that offer a great look and are a good value for the money spent. Exhaust stacks from United Pacific come at a great price with a nice look. If you are looking for a quick & reliable replacement to get you back on the road while saving some money and adding some extra shine, then United Pacific is the way to go. They all come with a standard 6 month limited warranty against defects in material or workmanship.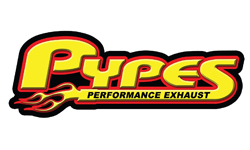 Pypes performance exhaust has been featuring their stainless steel exhaust lines to cars and trucks for over 10 years. Outfitting big rigs, daily drivers, and classic cars with premium exhaust that will last the test of time has been their goal. These stainless steel stacks and kits are polished to a high shine finish guaranteed to make your ride stand out. From individual stacks to full exhaust systems Pypes has been leading the way in stainless steel innovation.
These stacks are for the performance enthusiast who knows you get what you pay for. With a higher end price tag due to the use of stainless steel you can rest assured that with proper care your exhaust system will stay flawless for years to come. Pypes offers an unheard of limited life time warranty on all of their exhaust products and guarantees quality to ensure your exhaust stays in optimum shape.
---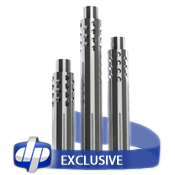 Tech Nine top stacks are the newest style of exhaust pipes added to the continuously growing Dynaflex brand.
These stacks were carefully designed to add an aggressive unique look to any truck carrying these on the road.
They are available in standard tailpipes or monster stack options and will most certainly transform your truck.
Shop for Tech Nine stacks in our store!
---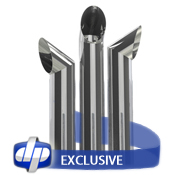 The Chino style stack is known as a true original out of California.
In the 1980's a customer of Dynaflex made his own set of pipes to help send the smoke out and away from his truck.
He lived in Chino, so to honor the customer, this style was named after his home town. Dynaflex has since added a stylized spin on the original design and regardless of where you live, the Chino is an awesome looking pipe.
Shop for Chino stacks in our store!
---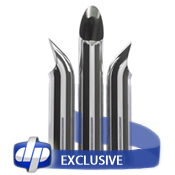 The Eagle Claw is one of the most unique pipe designs out there. This design gives a very modern touch and is meant for those who want to stand out and create their own trend.
With this addition to your big rig, the Eagle Claw will set you apart from the rest.
Shop for the Eagle Claw in our store!
---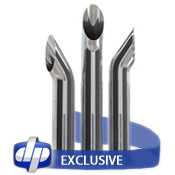 The name of these stacks originates from a favorite lunch stop of the original Dynaflex team. In 1982 when Dynaflex was founded, they were eager to find a good place to eat. Soon they discovered the diner down the street, which was a popular hangout for truckers and thus Ozzie's became their top spot. They still visit Ozzie's today and this stack is their tribute to about 1 million great lunch hour meals. The Ozzie style stacks are a customer favorite!
Shop for Ozzie Stacks in our store!
---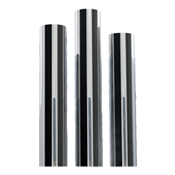 A classic look that never goes out of style. If you look at some of the first big rigs, you'll see flat tops on almost all of them.
Flat top stacks are a way to make a statement that old school is still king.
These pipes work great for a classic touch or a mean look, the Flat Top will get the job done.
Shop for Flat Top stacks in our store!
---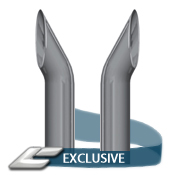 The short 30 is what we at Raney's like to call the baby of the bull horn style and curved style pipes
If you can't choose between the classic look of the curved exhaust and the mean look of the bull horn pipes, then the Shot 30 is the ultimate choice for you.
Short 30 is a big crowd pleaser and gives the best of two styles into one!
Shop for Short 30 stacks in our store!
---