Buying Guide: Cleaning & Polishing Products
Section 1: The Basics (Glossary)
Cleaning your rig can seem like an overwhelmingly big project, but by breaking it down into simple and accomplishable steps, anyone can do it. A good place to start is evaluating the different parts of the truck you need to clean. A rule to keep in mind is there is no set in stone "first step" to a project. Where you start is determined by a list of factors such as: The last time a section of the vehicle was polished, the temperature, humidity, and the oxidation and dirt buildup on the specific part of the truck.
There are a host of materials on a truck, from the tires and wheels to the different shades of stainless steel and chrome. This guide will focus on cleaning all aspects of your big rig and the different steps required to get a professional shine. Below, we've outlined some useful polishing terminology and equipment.
Metal Polish:
As the name of the category indicates, this type of cleaner is designed specifically for use on metals and is classified by the desired sealant and finish. Make sure to check the bottle, some metal polishes can be application specific to chrome, copper and other materials including jewelry. You will want to pick one designed for the type of conditions your product faces. In the case that it is harsh conditions of a vehicle traveling across the highway regularly then a polish like Zephyr Pro 40 would be a good choice. » Shop All of Our Polish & Cleaners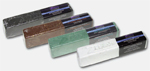 Bar Rouge (Jeweler's Rouge):
These different colored bars are used on a buffing wheel as an abrasive compound. The different colors and styles are used to determine which part of the polishing process they should be used in. » Shop All of Our Rouge
Face Shield:
A full plastic shield used to guard the face against debris and chemicals.
Respirator:
Covers the mouth to prevent harmful compounds and chemicals from entering.
Cutting:
This, like the different grits of sandpaper, is how deep a particular rouge compound cuts into the outer layer of dirt or rust on the metal.
Heavy cutting would refer to rouges and buffing wheels that are used early in the cleaning process while intermediate and finishing wheels and rouges are used as a final touch.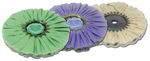 Buffing Wheel:
These are the different colored cloth wheels that attach to an angle grinder. They are spun onto a bar rouge in order to apply the compound to metal surfaces. The different colors of the wheel usually correspond to the toughness of the cloth. » Shop All of Our Buffing Wheels
Polishing Wheels (Cotton Buffing Wheels):
A finer cotton wheel or cone that is used to quickly smooth out liquid polish on metal surfaces. This wheel is used in the final steps of the polishing process. » Shop All of Our Cotton Buffing Wheels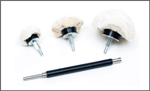 Goblets, tapers and pads:
These are small buffer attachments for polishing hard to reach places. They are generally made of cotton or a soft chemical treated cloth. » Shop All of Our Goblets, Tapers & Scuffing Pads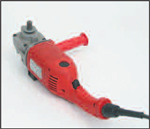 Angle Grinder (buffer):
A handheld machine used in conjunction with a buffing wheel and attached safety flange to polish and clean metal surfaces. Different grinders can have different optimal RPM (revolutions per minute) settings and desired attachment tightness so make sure you know your equipment's specifics.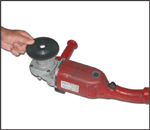 Safety Flange:
A metal or plastic flange that goes above and below a buffing or polishing wheel. Safety flanges are mandatory for use with airway wheels so make sure you pick up a set of these, or more if you use more than one buffer. Safety should be paramount in any professional polishing outfit or even the bench in your garage. » Shop Our Saftey Flange
Check out our demo with Southbound Polish below: