Buying Guide: Cleaning & Polishing Products
Section 2: Chrome Polishing Step by Step
Step 1. The first thing you are going to want to do is to wash down all of the surfaces you will be polishing. It is important to use a cleaning product designed to remove grease, grit and grime as well as any previous cleaning compounds. An example of a good product to use for this is Zephyr's Pro 50 Eliminator. It will open up the pores on aluminum and remove excess rouge and debris to give you a better result.

Side Note: If a metal surface has very light oxidation and scuffing, the buffing process can start from Step Three once you have cleaned the area. Heavy cutting is not always necessary.


Step 2. Primary Cutting:

For this step you'll be using your heaviest cutting rouge and heaviest
buffing wheel
. This step will cut through the thickest dirt and compounds left on the metal. While operating the angle grinder, make sure to use smooth left to right motions, letting the rouge do the cleaning, not the pressure applied to the surface. Think of the rouge as a thin barrier between the buffing wheel and the metal surface.
Side Note: It is important to also clean between each step to remove leftover rouge.
Step 3. Secondary Cutting
:

Like the name suggests, this is the second round of cutting. You are going to want to soften the wheel and use a finer rouge for this step. If you are using Zephyr products for your cleaning project, this is a good time to use the Hall Green Buffing Wheel and
cutting rouge
. You could also use the purple wheel and rouge depending on the condition of the metal or personal preference.
Pro Tip: Use a buffing wheel rake or wire brush to "rake" or clean the edges of a wheel or other lipped surfaces that needs polishing.
A dirty wheel caked with rouge will not give you the results you are looking for
. Do not mix rouges on a wheel you have used with another rouge. This will also affect your results and could cause scratching and swirl marks.
Step 4. Final Finish:

This is the last round of cutting where the finishing touches are applied and the softest and finest products are used. For this step we recommend the Zephyr White Untreated Airway Wheel or any cotton 3/8" sewn 60-ply wheel. You are going to want to use a fine rouge, such as the Zephyr White Chrome Final Finishing Rouge, to get the best results. As far as buffers are concerned, we recommend a 7/9" variable speed machine 0-6000 rpm with a 5/8 arbor.
We recommend a variable speed machine due to a few factors: Different types of wheels can be run at different speeds. Typically
cotton wheels
are run at a higher speed than airway wheels and if you're using a combination of airways and cotton for cutting and final finish, you can use one buffer. Also, depending on the type of metal, it is useful to be able to adjust the speed of your buffing wheel or cone. Aluminum is softer and more prone to heat and damage than stainless steel.
Step 5.
The last thing you are going to want to do is apply a metal polish using a microfiber rag or cotton buffing wheel.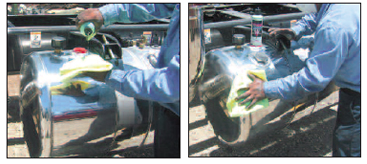 Depending on the polish, your application method will differ. Some polishes are both a cleaner and a sealant and others are just a finish to be applied without buffing. Make sure to read the instructions that come with the particular polish you've chosen. You can find our recommended polishes in our chrome polish section here. Each of the individual listings will have instructions or a video on how to use the polish.
Additional Things to Keep in Mind:
Whether an 8" or 10" wheel is used is a matter of choice. Typically 8" wheels are used by individuals new to polishing or occasionally polishing, while the 10" size is more frequently used by more experienced polishers and professionals.
For hard to reach places or wheels, we recommend using Goblets, Pro Tips, smaller cotton buffing wheels and scuffing pads to get into those places. Zephyr's Z-Ball Polishing ball is a great way to do this using a drill motor. It comes with a 3" goblet and an 8" extender which will accept all of our goblets and scuffs.