Lincoln Chrome at Raney's Truck Parts
With more than half a century of experience under their belt, Lincoln Chrome has earned every bit of their reputation as a top-tier manufacturer of stainless-steel exhaust kits, sun visors, and bumpers for professional drivers all across North America. Raney's Truck Parts has spent years cultivating a close relationship with the incredible people at Lincoln Chrome, and now we're passing the benefits on to you while celebrating American manufacturing with a discount on bumpers and exhaust kits this July! Qualified Lincoln Chrome products are 10% off starting July 1st through the 31st, and you don't want to miss this chance to have your rig chromed out with some of the best accessories this side of the Atlantic!
You don't need to take our word for it though; there's plenty of real reasons why these chrome-plated stacks and bumpers stand out from the competition! Lincoln Chrome products are all domestically manufactured fabrication-to-finish at their Nebraska facility right here in the USA, which affords their technicians a level of quality control that you just can't find at a lot of aftermarket part manufacturers. Plus, being so closely involved in the entire manufacturing process lets Lincoln Chrome offer you tons of unique options.
This means their exhaust kits are incredibly modular, featuring dozens of swappable elbows and top stack styles mounted to brilliant carbon or stainless-steel pipes with application-specific ID/OD sizing. If that's not enough shine for you, a matching chrome-plated carbon steel bumper makes for an affordable upgrade that doesn't skimp on a professional finish to do it! Regardless of what you're after in the end, you can be sure that Lincoln Chrome exhaustively tested the raw materials that went into making your part. That "304 stainless" or "10-gauge" label on the box is backed by provable, real-world data, not just a wink and a promise like you'd get with certain finished imports.
Even with all of that extra dedication, (and in the face of supply shortages that would make any manufacturer sweat,) you're still getting more steel for your money with Lincoln Chrome stacks and bumpers than you would from OEM parts that don't perform anywhere near as well under pressure. We've heard plenty about these exhaust kits and bumpers over the years, so we're happy to add to the mountain of evidence backing up that quality with some first-hand experience.
---
"Seems like a thicker material, I think they're 10-gauge? We haul coal, and these trucks go offroad— they push mud, dirt, and still clean up great on the weekends. Even had one of them hit a deer, and when we fixed it up it still looks pretty good! Price was fair. I'd buy the same bumper again."
-John Wright; L&F Trucking (Kenworth W900 Standard Mount 20" Boxed Bumper)
---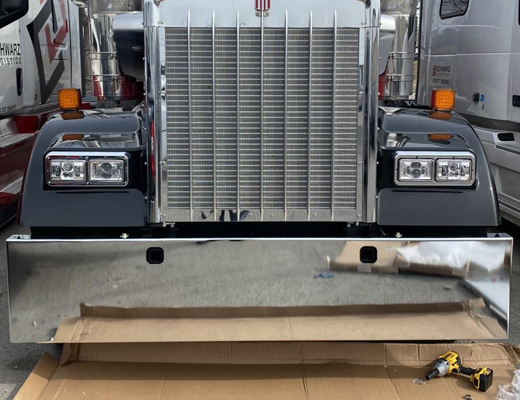 "Great buy, everything is good, still holding up."
-Dionisie B.; Invest Freight (Kenworth W900 Blind Mount 20" Boxed Bumper)
---
"They do alright. Look nice too. What else can you need?"
-Richard Klein (7" Bullhorn Exhaust Stacks)
---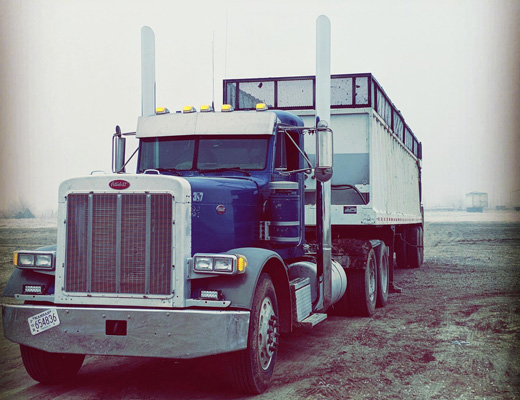 "Completely changed my truck"
-Aaron (Peterbilt 359 379 7" Lincoln Chrome Exhaust Kit)
---
Now, we know what you might be thinking— these are actual quotes and photos directly from real buyers in the last few years. We followed up with customers who've had their stacks and/or bumpers for at least six months. That way they've had enough time on the road to form a fair opinion. To be honest, we're hardly surprised, but definitely happy to have received so much positive feedback in general, and you can be sure that every word we hear, (the good *and* the bad,) goes right to work helping make Lincoln Chrome products and Raney's customer service even better than ever before! Once again, a huge "thank you" to everyone who took a few minutes out of their day to talk to us about their chrome and let us use their images for the blog!
This sale is a great opportunity to get a closer look at Lincoln Chrome exhaust kits and bumpers for yourself, and we'd love to hear exactly how they're working on your truck. Shoot us an email at cs@raneys.com with any questions, photos, stories, or just to say "hey!" We'll get back to you ASAP! Meanwhile, if you're curious about our entire inventory of Lincoln Chrome products, you can give us a call at our toll-free number 1-888-888-7990, or check them out at the link below!
Recent Posts
How are you supposed to buy a train horn for your semi truck if you have no idea what it sounds l …